"Fireworks Inbound" – Bitcoin
Things are looking primed-and-ready for launch!
Five Years of Bitcoin Trendlines All Lead to This One Point; "Fireworks" Inbound
"Although the past couple of years have tempered the excitement surrounding the cryptocurrency, it is important to note that multiple bullish factors are fast approaching on the horizon, and the combination of these factors suggest that BTC could be en route to setting fresh all-time highs. One interesting factor that should be noted is that the convergence of two key trendlines formed over the past five years coincides strikingly close with the cryptocurrency's upcoming mining rewards halving event – signaling that "fireworks" could be imminent. …Interestingly enough, the apex of this pennant coincides precisely with the anticipated date of Bitcoin's upcoming mining rewards halving in May, which suggests that this time period could be a historical pivoting point for the cryptocurrency. '5 years of trendlines perfecting coinciding with the most highly anticipated event in BTC history. Fireworks in store!' Travis Kling – a partner at the Ikigai Fund – explained in a tweet while pointing to the below chart."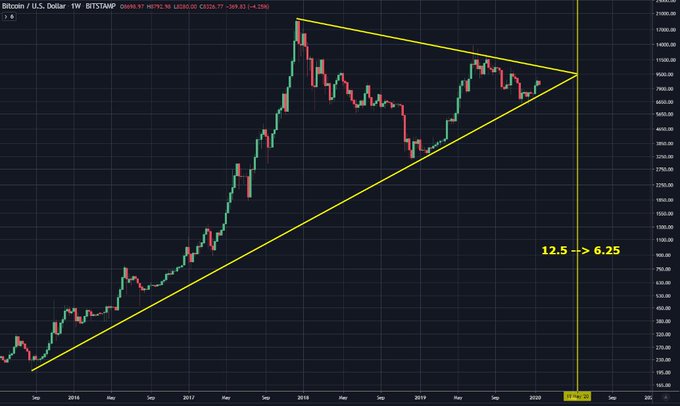 https://www.newsbtc.com/2020/01/24/five-years-of-bitcoin-trendlines-all-lead-to-this-one-point-fireworks-inbound/
Master
Asked on January 24, 2020 in
Bitcoin.