Bitcoin Sentiment Back to Greed as Bitcoin Nears $30K
Bitcoin has moved up towards the $30K range again, currently the price is $29710 and we were only $1USD from breaking $30K about two hours ago so expect to see that happen again very soon
Bitcoin Sentiment Back To Greed As BTC Breaks $29,000
"The 'Fear & Greed Index' is an indicator that tells us about the general sentiment among the investors in the Bitcoin and wider cryptocurrency sector. The metric uses a numeric scale that runs from 0-100 for representing this sentiment.
All values of the index below the 50 mark imply that the investors are fearful right now, while those above this threshold suggest that the market is greedy currently. While this cutoff may be clean in theory, the region between the values of 46 and 54 (that is, the boundary of the two sentiments) is considered to signify a neutral sentiment.
There are also two 'extreme' sentiments, called extreme fear and extreme greed, which take place at values less than 25 and more than 75, respectively. These mentalities have held historical importance for the market, as cyclical bottoms have formed in the former region, while tops have taken shape in the latter one.
Because of this reason, some investors believe it's ideal to buy during extreme fear, while extreme greed presents the best-selling opportunities. Followers of this philosophy are called 'contrarian traders.' Warren Buffet's popular quote nicely encapsulates the same idea: 'Be fearful when others are greedy, and greedy when others are fearful.'
Now, here is how the fear and greed index currently looks like for the Bitcoin and general cryptocurrency market: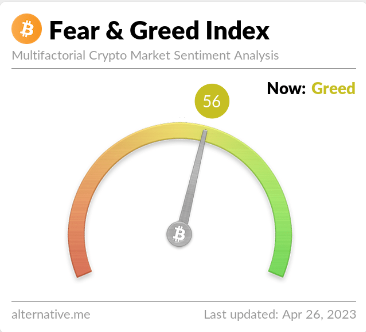 https://bitcoinist.com/bitcoin-sentiment-back-to-greed-as-btc-breaks-29000/
Master
Asked on April 26, 2023 in
Bitcoin.