RE: Novogratz – Bitcoin and Gold Likely to Head Even Higher This Year
Bitcoin bull Mike Novogratz believes Bitcoin – and gold – will be moving much higher this year and he's not alone as a host of others speculate Bitcoin has only started making its move way up
Mike Novogratz: Bitcoin and Gold Likely to Head Even Higher This Year
"In a tweet published on August 12th, Mike Novogratz, a former Goldman Sachs partner, asserted that Bitcoin's rally isn't over yet:
'Going on @SquawkCNBCat 8.05am. Always fun. I don't think we have seen the highs in gold or BTC for the year. Or stocks.'
Novogratz isn't the only one that thinks Bitcoin's rally is just starting.
Dan Tapiero — the co-founder of DTAP Capital, Gold Bullion International, and other companies — shared the chart below, writing:
'Tremendous long term Log Chart of #Bitcoin projects up 5-10x on this run. Just breaking up NOW. Should last a few years as 2.5yr consolidation is fantastic base for catapult up. Break of old highs will have explosive follow through. Time to sit and be patient.'"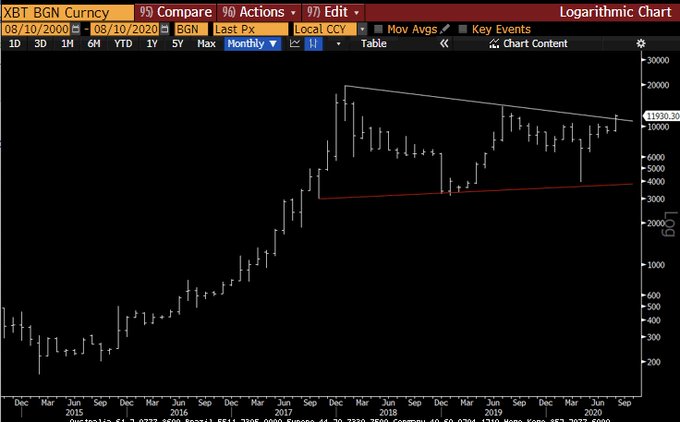 https://www.newsbtc.com/2020/08/13/mike-novogratz-bitcoin-and-gold-likely-to-head-higher-this-year/
Master
Asked on August 13, 2020 in
Bitcoin.
Much higher . Much , much higher .