RE: Key Indicator Predicts Massive Bitcoin Spike To Happen Today or Tomorrow
Bitcoin is just a little under $9500 this morning, will we see a big price increase today or tomorrow? Time will tell!
Key Indicator Predicts a Massive Bitcoin Spike Will Happen Today or Tomorrow
"Bitcoin's consolidation over recent weeks has allowed the one-day relative strength index (RSI) to tighten, forming a symmetrical triangle formation marked by two converging trendlines.
According to a trader, the RSI suggests that a 'price volatility spike' will happen today or tomorrow 'at the latest,' with the indicator finally breaking out of that triangle after weeks of consolidation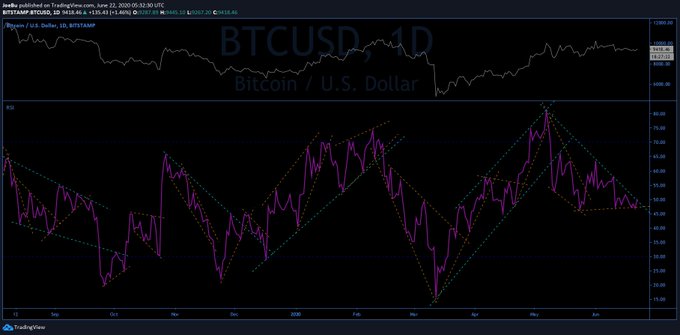 Also suggestive of an imminent breakout is the Bollinger Bands, 'a type of statistical chart characterizing the prices and volatility over time of a financial instrument or commodity.'"
https://www.newsbtc.com/2020/06/22/massive-bitcoin-spike-happen-today-tomorrow/
Master
Asked on June 22, 2020 in
Bitcoin.
They just may be right, Bitcoin is nearing $9,600 right now.