RE: Bitcoin Trends on Twitter in the U.S. and Canada
No doubt Bitcoin was trending – what a day yesterday was! I'm wondering what today will bring, Bitcoin price is around $10980 atm
Bitcoin Trends on Twitter in the U.S. and Canada as Price Jumps 15%
"Michael Goldstein, a prominent Bitcoin commentator and proponent, shared the image below on July 27th. It indicates that #Bitcoin, which comes with its own emoji thanks to Twitter CEO Jack Dorsey, is trending in the U.S. with 61,000 tweets in the past 24 hours.
Below the leading cryptocurrency is Das Kapital, Karl Marx's book, seemingly because Tesla CEO Elon Musk tweeted out a Marx meme earlier today.
According to this own writer's Twitter feed, BTC is also trending in Canada. The hashtag is currently the second-most popular trend on this writer's feed.
Multiple reports from other Bitcoin and crypto community members around the world, including in Australia and in the U.K., has confirmed that the cryptocurrency is trending around the world."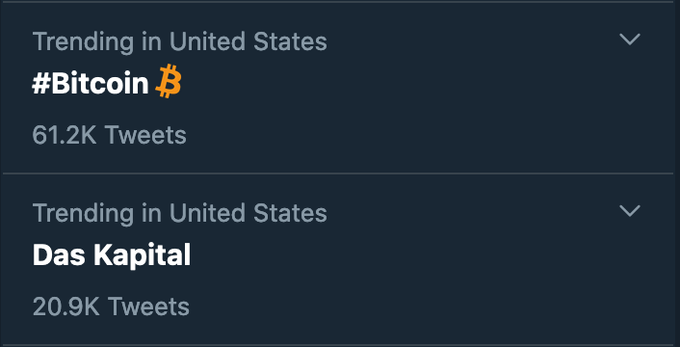 https://www.newsbtc.com/2020/07/28/bitcoin-trends-twitter-us-canada/
Master
Asked on July 28, 2020 in
Bitcoin.
Price looks about the same, it is still right under $11,000. Bitcoin might not be trending at the moment on Twitter but it is on any and every financial journalist's lips and finger tips today